Home Appliances to Make Life Easier & Save Money
Just like smart phones, appliances are getting smarter. They now inculde smart applications that allow you to interact with them from your phone or tablet – at the grocery store for example.
We had fun reviewing these smart appliances and think you'll be just as fascinated as we were. What's exciting is that after all the focus on making appliances more energy efficient, many of these new appliance features are designed to save you time and make your life more fun!
Refrigerators with Hot Water Too!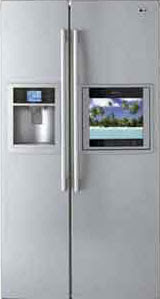 Refrigerators with apps and a touch screen look like your smart phone. The GE Cafe Series French-Door Refrigerator (photo from video) makes it easy to pick a pre-programmed temperature for things like tea or a cup of hot soup. Here are just a few of the new features you can get with your refrigerator.
Sparkling water, a new option next to your water and ice in the door.
Visual, color coded display showing the temperature of each drawer.
Apps to keep track of what's in the fridge and help plan menus.
Keep your grocery list on Evernote, so everyone can add items to the list, even while you're at the store.
Use your Google calendar to see who's cooking and who's coming to dinner!
And let's not forget the growing number of under-counter refrigeration products for wine storage to beer dispensing and ice making, which are growing in popularity.
What's New in Ranges, Cooktops and Ventilation
Side-by-side ovens are gaining popularity for their comfortable height. They are also easier to repair or replace one unit versus the entire appliance.
Some ovens serve as multi-function ovens which can be a convection oven and a microwave. There are also steam ovens that heat food with steam or they can be used as a convection oven.
Induction stoves are more high tech; they can now automatically recognize the size, shape, and location of pots you place on the stove top.
Siemens has an amazing multimedia ventilation hood with a 17-inch LCD screen so you won't have to give up precious countertop space for a TV.
You won't even notice the combination ventilation/lighting system that can hide in your kitchen ceiling.
Dishwashers Are Getting Smarter
Now there are smart dishwashers that monitor their own performance, diagnoses problems and with a Wi-Fi connection, they can call home (manufacturer) to schedule a service appointment. They're also adding auto-close doors and automatic load-size sensors to help make your use of the dishwasher energy efficient.
Double dish drawers make it easy to run a full dishwasher with half the load, when it's split between two drawers. They're also more energy efficient.
Energy Efficient Washing Machines and Dryers
The biggest change in washing machines and dryers is the front loading machines which are more energy efficient and use less water. There are many new features using technology to conserve energy and water, like adjusting water temperature for the clothes you're washing and adjusting the dryer temperature based on the moisture level in the drum. Also, the new dryers will sense when your close are dry and will automatically end the drying cycle – saving money but also saving your clothes.
A favorite new feature is the fresh spin cycle offered with some washers which keep your clean laundry fresh until you're able to transfer it to the dryer. It does this by agitating the load back and forth to stop mildew.